The City is always known for its Traditional spicy & tasty food which is full of rich spices and herbs. The food here ranges from spicy to super spicy, which always braces the taste buds of tourists.
Biryani:
Aurangabad is renowned for its varieties of Biryani including both Vegetarian and non- vegetarian. The city is known to be the home of world class Mughalai Chicken Biryani. The other famous varieties include, Mutton biryani, Paneer biryani, and Veg Biryani.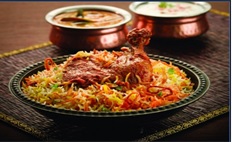 Naan Khaliya:
A simple dish of Sheermal or the naan bread cooked in a tandoor served with khaliya, a spicy red mutton curry, which has been slow cooked all day. This dish is a complete meal in itself and as legend suggests, was used to feed the royal army. It is also known as the historic food of Aurangabad.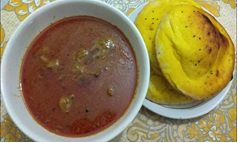 Haleem:
It is a combination of Indian spicy curry with pulao (Veg or non-veg). It is another special dish of the city. It is considered as the prime choice of the local people during the month of Ramzan.
Nan khatai:
Aurangabad is famous for it's "Nan-khatai" sweet. These are eggless cookies purely made of flour, sugar and ghee. These Indian Biscuits are famously known from Mughal era.