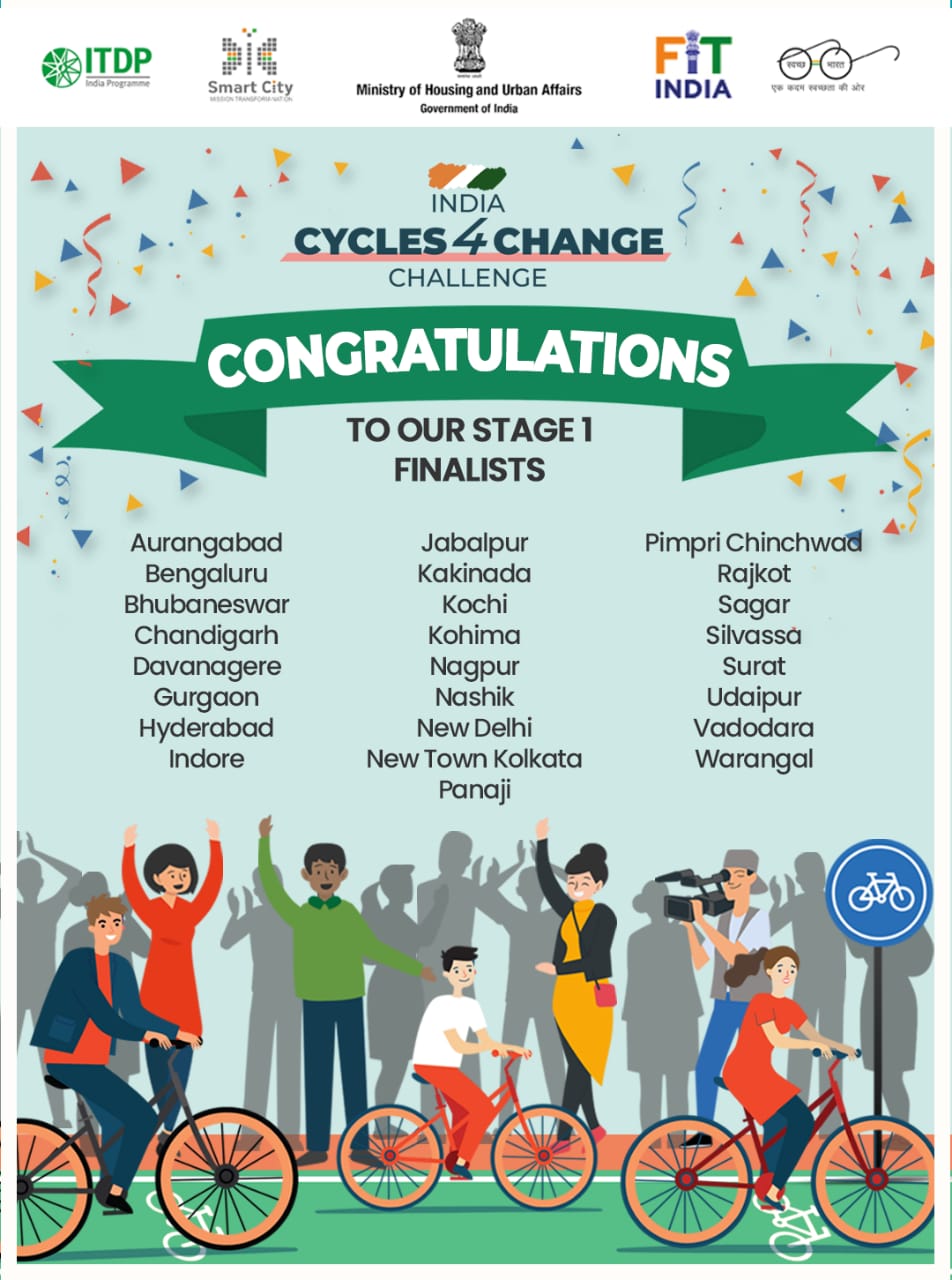 Aurangabad becomes Cycles4Change India Challenge finalist
Aurangabad: In a delightful development, Aurangabad has become one of 25 cities in India to be shortlisted for the second phase of nationwide Cycles4Change Challenge organised by Smart Cities Mission. Notably, the Aurangabad Smart City Development Corporation Ltd (ASCDCL) has created a 6 km long cycle track from Kranti Chowk to Railway Station and back as part of this Challenge.
The India Cycles4Change Challenge was introduced by Smart Cities Mission, Ministry of Housing and Urban Affairs, Government of India to inspire and support Indian cities to quickly implement cycling-friendly initiatives in response to Covid-19. The Challenge was launched in Aurangabad by AMC administrator and erstwhile ASCDCL CEO Astik Kumar Pandey on October 2, 2020. The administrator subsequently had announced that Aurangabad will get 20 kilometres of cycle track.
The cyclists associations, fitness groups and residents have since then eagerly joined the movement of cycling. This was also followed by the increase in cycle sales in city by a whopping 300 percent.
The cycle enthusiasts and other stakeholders along with officials of ASCDCL, Aurangabad Municipal Corporation and traffic police undertook survey of different city routes and the stretch from Kranti Chowk to Railway Station was selected for the development of city's first cycle track. The cycle track was completed in January and was inaugurated by Maharashtra minister of Environment and Climate Change, Tourism and Protocol Aaditya Thackeray in presence of Maharashtra minister of Industries, Marathi Language and Mining Subhash Desai.
Other initiatives like Cycle to Work Day initiated by Mr Pandey, heritage cycle rally, painting of street at Cidco N-1 and Open Streets events were taken as part of the Cycles4Change Challenge.
107 cities had applied for the challenge. The results of phase 1 of the Cycles4Change Challenge came out on Tuesday and Aurangabad has made it to phase 1 finalist list overriding cities like Pune, Thane, Kalyan-Dombivili, Ahmedabad and Varanasi. Now, the city has to give a presentation to the jury and to be selected among 11 cities which will receive a scale up support of Rs 1 crore.
For more details visit : https://smartnet.niua.org/indiacyclechallenge/