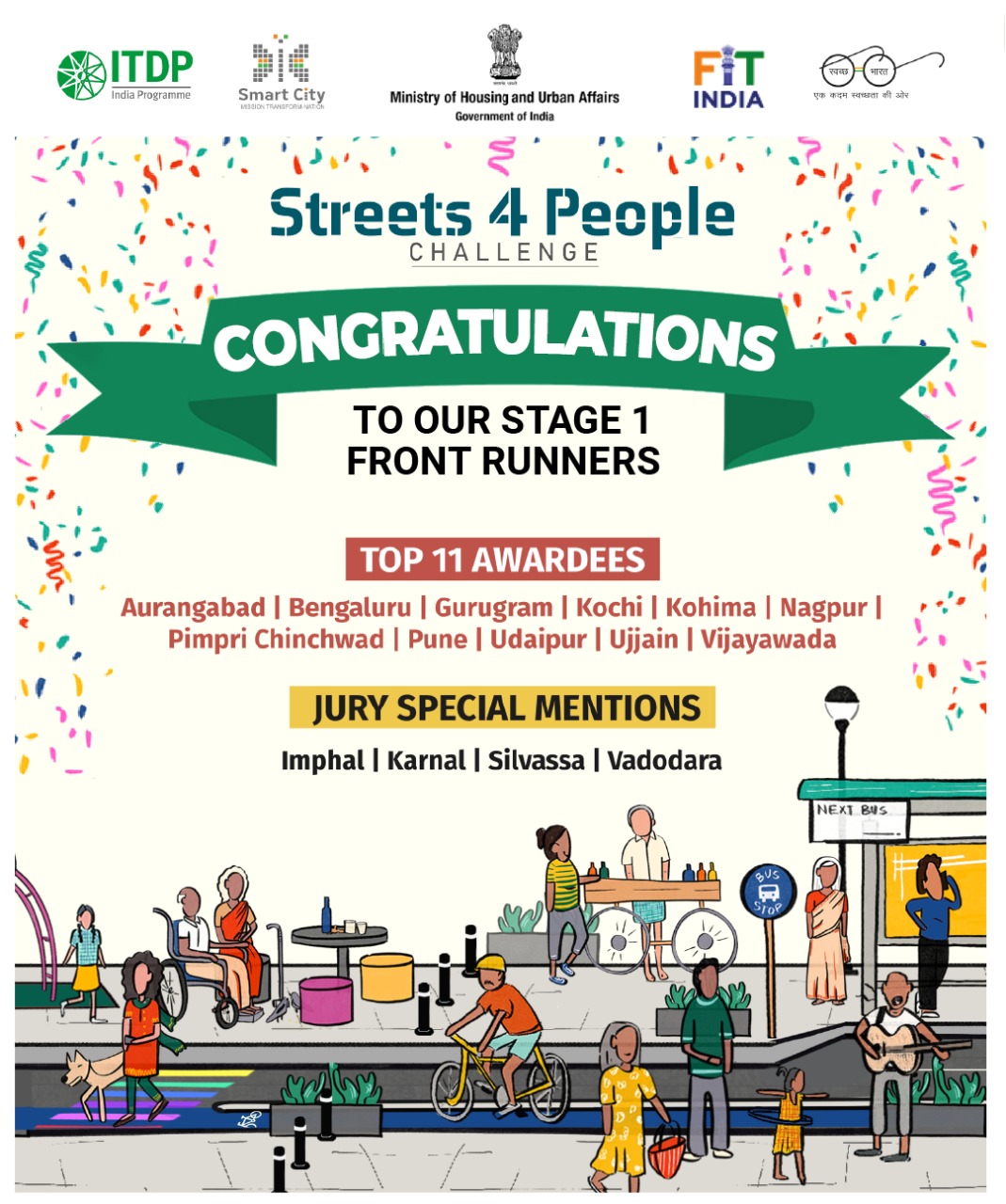 Aurangabad wins Streets4People Challenge
Aurangabad wins Streets4People Challenge
• City made it to top 11 cities among 113 cities
• • Big cities like New Delhi, Chandigarh, Hyderabad left behind
• 4 streets will be transformed to make them safe and friendly walking
Aurangabad: In a major boost to the countrywide image of the city, Aurangabad won the Streets For People Challenge organised by central government to make it to the top 11 cities among 113 cities. This award was announced in an online programme organised by Smart Cities Mission on Monday.
Aurangabad Smart City Development Corporation Limited implemented the streets for people challenge in Aurangabad under the guidance of CEO and Aurangabad Municipal Commissioner Mr Astik Kumar Pandey.
The Streets4People Challenge was introduced by Smart Cities Mission under Ministry of Housing and Urban Affairs, Government of India with an aim to make streets walking friendly, safe and inclusive for all. The idea is to encourage walking and making public places vibrant for all sections of the society.
As part of the campaign, Aurangabad Smart City took stretches of Kranti Chowk and Connaught to carry out pilot testing to ensure parking discipline, improve walking experience, improve pedestrian safety, enhance aesthetics, create spaces for socialising, boost local economy and boost the visitor experience.
As part of Streets4People Challenge, Aurangabad organised Open Streets programmes at Paithan Gate, Kranti Chowk and Connaught. In open streets, traffic movement was stopped to give citizens the experience of vehicle free streets. It recieved overwhelming response from all sections.
Aurangabad Smart City made designs for the transformation of 4 streets viz. Kranti Chowk to Gopal T, Paithan Gate to Gulmandi, Connaught and Priyadarshini MGM Street. Sneha Nair, Assistant Project Manager at Aurangabad Smart City said that several times meetings have been held with Aurangabad Municipal Corporation officers, traffic police, shopkeepers, residents and public representatives. "Based on the feedback recieved during the meetings, we will make necessary modifications in the designs and will implement in the next few months," Nair said. These transformations will be done keeping in mind the hawkers zone policy and parking policy which the Aurangabad Municipal Corporation is preparing under deputy municipal commissioner Aparna Thete.
Aurangabad Smart City additional CEO Arun Shinde and deputy CEO Pushkal Shivam have supervised the team on implementing the challenge. Assistant project manager Sneha Bakshi, Media Analyst Arpita Sharad, Project associate Kiran Adhe and team of interns worked on the project.
By winning the challenge, Aurangabad has surpassed big cities like New Delhi, Chandigarh, Hyderabad, Surat, Jaipur, Bhopal, Nashik and Thane. The city will recieve cash prize of Rs 50 lakh for the victory.
Astik Kumar Pandey, Municipal Commissioner and Aurangabad Smart City CEO

"The selection of Aurangabad as winner among 113 participating cities in India is a major success and is a boost to the image of this city. The credit goes to the citizens of Aurangabad, Smart City and Municipal Corporation team. We are committed to transform the selected streets to give a modern look to Aurangabad."